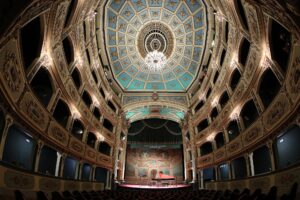 March at Teatru Manoel is set to include another packed programme of unmissable events.
The events hosted at the historic theatre in Valletta throughout the month will offer highlights from across Malta's arts and cultural scene.
Dance kicks off the month, with ŻfinMalta's 21 Dances for the 21st Century on the 6 and 7 March. As the second full-length performance choreographed by ŻfinMalta's artistic director, Paolo Mangiola, in a collaboration with visual artist Kane Cali, the show pays homage to Yuval Noah Harari's highly acclaimed book, 21 Lessons for the 21st Century. This multi-layered dance piece reflects on the pressing issues of our time and of the digital age, posing possible solutions while tracing the spirit of what it means to live now. 21 Dances for the 21st Century features an original score by Veronique Vella, lighting design by Moritz Zavan Stoeckle and costumes designed by Luke Azzopardi.
Ir-Raġel Li Ħawwad Lil Martu Ma' Kappell, performed on 12, 13, 14 March at Teatru Manoel, is the Maltese version of The Man Who Mistook His Wife for a Hat, a book penned by neurologist Oliver Sacks and later adapted into a play by Peter Brook and Marie-Helene Estienne. Playing the multiple roles of patient and doctor will be a stellar cast of four actors, namely Ray Calleja, Mikhail Basmadjian, Vince Micallef Pulé and Charles Sammut, directed by Mario Philip Azzopardi who also translated the play into Maltese.
Teatru Manoel Youth Theatre (TMYT) will meanwhile take audiences into the world of comedy on 19, 20 and 21 March, through the Toi Toi Education Programme. Pjazza Pastizzi – A Commedia by TMYT explores the art of classic comedy, offering a tongue-in-cheek look at local culture and village life, in a hilarious show devised and performed by the young company aged from 16 to 25, with direction by Dr Michael Richardson. Pjazza Pastizzi – A Commedia by TMYT is recommended for audiences aged 16 or over.
World Early Music Day on 21 March is set to be celebrated, with two online performances on the day. The first will be a streamed performance from this year's Valletta Baroque Festival, in which Maltese soprano Claire Debono performed the music of Italian Baroque Masters Vivaldi and Scarlatti, alongside the Goldberg Ensemble and directed by Michael Laus.
The day's programme will also include another online concert, which will be streamed live from Mdina Cathedral Museum in memory of Reverend Mgr John Azzopardi, also known as Dun Ġwann. Alongside his work as the curator of the Mdina Cathedral Museum and the Wignacourt Museum in Rabat, Reverend Mgr Azzopardi was greatly involved with the Valletta Baroque Festival, working closely with the Valletta Baroque Ensemble and The Monteverdi Project, often providing various pieces of Early Music to be performed.
This month, Malta's national theatre will likewise pay tribute to legendary Maltese poet, novelist, literary critic and philosopher Oliver Friggieri, who died last November. Inspired by Poetry Brothels and Poetry Jams, this devised theatre piece is performed to selections of Friggieri's works over music, using his lyricism to create memorable visual theatre. Directed by Sean Buhagiar, this unique show features, performances by The MVTMT and Jamie Cardona with choreography by Cheryl Lofreda lighting by Moritz Zavan Stoeckle, music by Chris Vella and production design by BLOC.
For more information regarding Teatru Manoel's March programme and to book tickets, visit www.teatrumanoel.org.mt, call on 2124 6389 or email on bookings.mt@teatrumanoel.mt. All production information is correct at time of going to press. Teatru Manoel strictly adheres to the regulations as issued by the Public Health Regulation Department and Superintendence of Public Health – full guidelines are also available on the Teatru Manoel website.