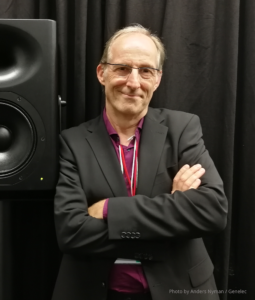 Electronic Music Malta (EMM), Malta's home of contemporary electronic music, is set to host the next edition of Circuits Festival in October.
The popular annual festival has been organised at Spazju Kreattiv every year since its launch in 2016, bringing to the island electronic music performers, synthesiser makers and DJs from Malta and around the world.
Featuring installations, workshops, performances, talks and an exhibition area, Circuits Festival is designed to boost the skills of the local electronic music artist community.
"At Circuits you can expect a series of events with live music by Maltese artists, talks and workshops on different topics, plus you will get to know about music software techniques and how to build a small music gadget," shares Luc Houtkamp, artistic director of EMM and Circuits Festival. "But Circuits is not for nerds! It is for everyone who is eager to experience something new, something unexpected! Circuits challenges the listener to come out of their comfort zone and open their ears and minds."
The Circuits 2020 programme, which will take place between 17 and 30 October, is shaped around this year's theme of 'Away from the Comfort Zone'. Workshops will cover topics such as building the 'Storbju' DIY synthesiser device, health awareness on exposure to excessive sound levels, the history of music production in Malta from the seventies to today, and representation of the Maltese entertainment and arts industry, copyright and music law. Grammy Award Nominee Tom Ammermann will also be delivering an online workshop on spatial sound, with the participation of a live and online audience. Discussions throughout the festival will meanwhile be hosted by organisations such as the MEIA, M3P Foundation, PRS and the Malta Association of Audiologists.
Apart from several DJ and live performances by electronic music artists including Giacinte, Tina, Hearts Beating in Time and KNTRL, Circuits 2020 will also feature a special project in line with the main theme, filmed at various locations around Valletta.
"For the first time ever, Circuits has commissioned a project, titled 'Away from the Comfort Zone', which will allow local electronic music artists to join forces and collaborate with artists from other disciplines and spheres," explains Tina Camilleri, secretary of the Board of EMM and coordinator of the 'Away from the Comfort Zone' project. "These will result in performances that will premiere online during the festival on different dates, while they will be filmed professionally and collated into a documentary to be premiered in 2021."
Circuits 2020 will be a hybrid festival with all events streamed online, while some may allow for the attendance of an audience in accordance with COVID-19 health protocols. The events will be streamed live with state-of-the-art filming and audio, while the discussions will be held on widely available platforms, allowing the public to ask questions and participate online.
"2020 also marks the first year that EMM, as a voluntary organisation, has received the three-year Investment in Cultural Organisations grant from Arts Council Malta, enabling it to grow as an artistic organisation by investing more digitally, while expanding Circuits into a professional festival featuring more innovative projects and performances, " explains Edwin Balzan, EMM Chairman and Executive Director.
Circuits is part of the Spazju Kreattiv programme and is further supported by the German Maltese Circle and the Goethe Institute.
An exhibition and installation related to Circuits and other projects organised by EMM will also be available throughout October at Spazju Kreattiv, Valletta.
More information regarding the Circuits Festival may be found online at www.electronicmusicmalta.org.