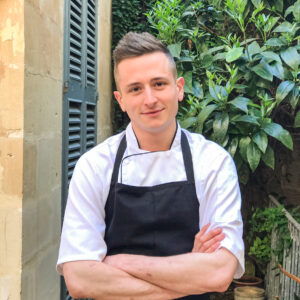 Stephen La Rosa is a Michelin-trained chef, educated in America and recruited by several top Michelin starred dining establishments. In 2017 he returned to Malta, where he has now taken on the role of Chief Culinary Officer at the Mediterranean Culinary Academy.
Stephen discovers the culinary potential of the Maltese islands using both classic and contemporary techniques. Working with local farmers and producers, the academy uncovers the story and traditions of the Mediterranean to create a network of holistic food and beverage-lovers.
Where does your love for food and beverage come from and what inspired you to go into the culinary world?
From a young age I spent a lot of time in the kitchen, watching my mother and grandmother. I didn't help much per se, but loved being around the sights, sounds and smells of the kitchen. As I grew older, my connection to food grew, too. I loved eating and watching TV shows like Ready Steady Cook. Over time, cooking professionally became my backup plan, while I prepared for a career in IT that I wasn't passionate about. When the time came to apply to university, I realised the backup plan excited me more. Without much thought, I joined a local culinary school and found a job working in a kitchen to get some experience – immediately falling in love with my newfound career choice.
What were your reasons for studying at a culinary institute abroad, in the US?
The first time I visited New York City as a teenager I immediately told myself I wanted to come back someday to live and work there. Just a few years later my best friend convinced me to join him at the Culinary Institute of America. The instructors were world-class chefs and the guest lecturers that the school would bring in were industry leaders. Through the academy I secured an internship at a 3 Michelin-Starred kitchen in Manhattan. These sorts of opportunities just weren't available to me in Malta at the time. Additionally, distancing myself from Malta allowed me to gain some perspective and context, as I had only known life on a small island up until then.
Are you happy to be back in Malta?
It was always the intention to come back. Truth be told, as imperfect as our island may be, I still love it and do consider it my home. After a few years of travelling, learning, and cooking in high-end restaurants, I was excited to come back and put my knowledge and experience to good use. Since then it's been over three years of heading the culinary department of a small culinary school. So yes, I'm incredibly happy to be back and making a name for myself at home, not to mention how good it feels to be cooking with Maltese ingredients again! Also, pastizzi.
Having worked in top-notch restaurants in the US and the UK, what does your international perspective bring to the table in Malta?
Being able to witness what goes on behind the scenes in some of the best restaurants taught me a lot of culinary knowledge and technique in a short amount of time, but it was more than just learning how to cook at a high level. The energy inside of these kitchens is something I had never experienced before. The experience teaches you volumes about professionalism, work ethic, developing an eye for detail and to constantly strive for perfection, both with regards to the food as well as hospitality.
 During COVID-19 you started recipe boxes for home cooks and culinary enthusiasts who want to expand their knowledge of cooking in a holistic and sustainable way. How do you come to the perfect combination of ingredients and drinks?
The selection process always starts with our farmers. We check what they are growing at the time and work from there. I do all the recipe testing from my home kitchen, so when I'm creating the dishes, part of the development process is thinking about what I love to cook for myself and my girlfriend. I do my best to make sure there is a good balance of comforting, filling dishes as well as lighter and quicker meals for when you need something midweek to keep you going. Everything is both delicious and packed with nutritious fruits and veggies. For the wines, we try to source as many interesting but inexpensive offerings from around Europe as well as some delicious local varieties.
Sustainability is one of your main values. What have you learnt about sustainable cooking over the years, and how is this put into practice at the Mediterranean Culinary Academy?
I like cooking with local produce and proteins whenever possible. The short distance from the farm or the sea to my kitchen typically means the food is going to be of better quality than something imported. I like to use as much of a product as possible, for example, if I'm going to be having chicken for dinner I'd like to break down the whole bird and I'll freeze the bones to make a big batch of stock once a month. I'll definitely cook up the offal for a small chef's treat. On top of that I look out for underutilised species of fish and use more sustainable, less resource-intensive meats when possible. Essentially, being mindful of where your food comes from and how it impacts the food system as a whole is a core part of our ethos at the Academy.
For coming Father's Day, June 21, you created a Father's Day Box. What meals does it consist of to indulge dads on their favourite day of the year?
The box is a pretty accurate representation of the sort of things I like to cook for my own father.  For a light starter, there's a ratatouille which is the perfect dish to showcase all the beautiful peppers, tomatoes, zucchini, and aubergine we love from the summer months. This is scooped up by rosemary, black pepper, and chickpea crackers. The main course is a beautiful bone-in pork chop; this large haunch of meat really makes an impression when carved at the table. To complement that, there are some decadent mashed potatoes mounted with loads of parmesan cheese and butter, a slightly sweet, refreshing peach and cabbage slaw and a tangy salsa verde to brighten up the dish. To finish off the meal we'll be using some beautiful summer peaches and surrounding them with a flaky, buttery pastry, sprinkling plenty of cinnamon sugar to create the perfect summer galette.
We see the Date Night Box is also back. What makes this box so special, and how do you suggest couples to enjoy themselves culinarily?
One of my favourite things to do on a night off is to open a bottle of wine and just cook together with my girlfriend. The time just disappears when you spend the evening laughing, drinking, cooking and finally eating something incredible which the two of us put together. For the date night box, we try to make the process of cooking a three-course dinner together as simple as possible, so all the ingredients are weighed out and the recipes are explained in great detail. We've had many workshops at the MCA where couples came specifically to cook together, and we wanted to keep that kind of cooking alive during these tough times when we were unable to open our doors.
What do you love most about working at the Mediterranean Culinary Academy?
Even though the culinary industry very much runs on passing on knowledge through teaching and mentoring other chefs, I never thought of myself as an educator. I was terrified of teaching my first workshop, but I prepared myself thoroughly and was blown away with how comfortable it felt to pass on my knowledge to others. To see somebody who comes into a workshop and bashes themselves for not being a good cook, only to see them a few hours later eating their own hand-rolled tortellini made entirely from scratch with a smug look on their face – that right there is a really deep sense of satisfaction.
What is your personal favourite meal this season?
Only recently, I was working on an aubergine parmigiana recipe for one of the recipe boxes and as simple as it sounds, I had forgotten how much I absolutely loved it. The last time I probably cooked it was the Italian/American version at culinary school where each aubergine slice is breaded and fried (you've got to love the Americans and their eggplant parm). The version I prepared still had plenty of crunchy, cheesy bits but the focus of the dish was the phenomenal aubergines, complemented with some of my favourite summer flavours.  My girlfriend isn't the biggest fan of aubergine either so the day I was recipe testing I devoured an entire tray over lunch and dinner by myself and loved every bite.
Whether you are planning a delicious Father's Day surprise or are looking for a cute date idea with your significant other, Stephen La Rosa and his team have perfected recipe boxes for you. You will receive fresh and local ingredients to create your own Michelin-worthy dishes at home. Learn more about the Academy and the recipe boxes on www.mcamalta.com/.