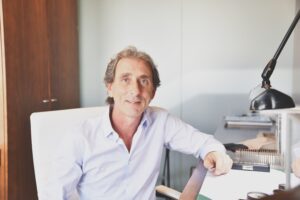 With a knack for all things shiny, Sue and Wayne Satariano, the siblings behind jewellery brand vivi, knew exactly what the world needed more of. Named after their late mother Vivian, vivi provides a gorgeous range of fine yet affordable jewellery. Wayne tells us more.
Hi! Could you tell us a bit about you?
We are vivi, a new online jewellery brand. It was founded by me and my sister Sue, and we also run the luxury jewellery brand GABA. Vivi was built with the intention of providing our audience with a wide selection of high-quality sterling silver jewellery at accessible prices.
Vivi Jewellery was recently launched in Malta. What makes the brand one-of-a-kind?
One of vivi's four unique values is durability. Having been born into the family business, we gained first-hand experience of the long-established relationships with suppliers, manufacturers and clients. These relationships translated into the durable nature of the products from both a quality and a design point of view.
What was the main motivation for creating vivi Jewellery?
Vivi was born not only after gaining years of experience in the jewellery industry but also by understanding the current gaps in the market. We aimed to make high-quality sterling silver 925 jewellery accessible to all, from convenience (online shopping) to price ranges. The name was created in dedication of our late mother Vivian, motivated by her constant support of the family.
What would you say is at the heart of what you do?
High-quality and accessibility.
Tell us about your team – how are your individual talents put to their best use?

Our in-house team is made up of my sister Sue, Nikki, Zoe and myself. Sue and I are vivi's directors and buyers, focusing on working directly with our suppliers and manufacturers.
Nikki works everything to do with administration, of which there is a ton as an online brand! Zoe helps Nikki out and also handles website admin, as well as with sales and giving direct feedback to the team.
We also work with Tammy on a freelance basis. She focuses on branding and marketing and ropes in different talents to deliver the finished product.
Where do you source your materials from?
For the first collection of our Classics range all the silver we used was traded, meaning we handed old silver to our manufacturers to melt down and refine to pure silver. Our plan is to eventually have our collections produced from our own traded and melted silver, as it's super sustainable. For our latest collection we use "conflict-free" silver from Italy, which meets a high level of environmental and social standards.
Can you tell us something about your eco-packaging?
We commit to being a conscious-driven brand, keeping our people and planet in mind every step of the way. Plastic packaging was out of the question, so we worked hard to source packaging that wouldn't have such an impact on the environment. Our boxes, envelopes and cards are made from recycled paper and are fully recyclable. Our tissue paper is acid free, sulphur-free and is printed using Soy Based Inks. It has been accredited with the Eco Packaging Alliance.
What is your personal favourite piece or collection?

My favourite piece so far is the Constellation Necklace, but we are super excited for our Chains collection, which is launching next month!
What is it that you love the most about jewellery?
Here at vivi, our favourite part is the designing of our products and creating precious metals.
Do you have one final thing you would like to share with our readers?
Vivi is all about quality and convenience first. It has been built around our clients' needs, filling gaps we understood through our well-established brand GABA. We wanted to create something that would close those gaps, making high quality Sterling Silver jewellery available to our clients at the convenient click of a button.
Whether you're looking for a statement necklace or a pair of silver stud earrings, with vivi jewellery you can be assured to find the right piece. Check out their stunning collections on www.vivijewellery.com.