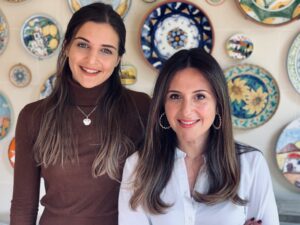 Bukkun is the first of its kind in Malta and makes children's mealtime as easy as pie. Power duo Erika and Julia had long dreamt of creating their own start-up. During the pandemic they put their creative minds to use and started a concept they can call their own.
Hi! Would you kindly introduce yourselves?
We are Erika and Julia, founders of Bukkun, the first local children's food brand in Malta. We have taken on the challenge of the chaos that is children's mealtime!
The mission of Bukkun encompasses many of our personal lifestyle choices yet is built with the needs and requirements of children in mind.
What is the concept behind Bukkun?
Bukkun is a local children's food brand with the aim of providing a range of solutions to busy parents, helping them conquer their children's mealtime. Our mission is to help parents and kids understand where the food they eat comes from, what they should be eating, and why they should be eating it.
To do this we will be launching a weekly subscription service offering delicious, wholesome and fresh 'lunchbox' style meals.
What inspired this idea?
We wanted to find an outlet where we could release our creative energy and be the decision makers. When Covid-19 struck, we ended up on reduced working hours. We searched for brands we could bring to Malta, but quickly asked ourselves 'why can't we build our own brand?'.
We are lucky to live on an island with incredible resources right at our fingertips: locally reared meat, locally caught fish, and best of all, locally grown fruit and vegetables.
How will Bukkun improve the lives of children and their parents?
 The Bukkun brand stands on three pillars:
Honesty and Education: We aim to be totally transparent with parents and kids about our ingredients and their nutritional content.
Convenience and Peace of Mind: Bukkun will offer parents an alternative option to mass-produced, foreign store-bought snacks.
Wholesome Lifestyle: Bukkun is so much more than your standard food company. We offer parents and kids wholesome foods, educational tips and recipes, food workshops and more.
Can you describe what a typical lunch box might contain?

We work with a rolling menu, meaning we will serve up to at least 15 different meals before repeating any dishes. This allows our tiny customers to enjoy a wide range of tastes and textures. Each lunchbox will include a healthy portion of protein, a side of vegetables or fruit and a yummy snack.
Some of our favourites include the Cornflake Crusted Chicken Goujons, Salmon and Broccoli Bites and Oaty Chocolate Chip Cookies.
What was the main goal of the nutritionist when creating the recipes?
With the help of our nutritionist – Sara Borg, founder of Balance – we curated a fun, delicious and wholesome meal plan.
The idea is to ensure that we are providing our tiny customers with the right amount of nutrients through protein, starch, fruit and vegetables. It is super important to us that each item we offer is not only delicious and fun, but also super nutritious!
Are there children that already tried and loved the meals?

Definitely! We are lucky to be surrounded by many children from friends and family and have done a number of informal focus groups with them. It was important to us that we received feedback from the kids when it came to taste, but also from the parents when it came to convenience.
When will the service officially be available?
We are working night and day to make sure everything is just right before launching. For the time being we have launched our catering menu, offering three delicious menus which can be ordered for parties or get-togethers!
How many kids are you currently hoping to feed?

Is all of Malta too broad?
Our aim is to service as many busy parents and hungry kids as possible! Whether your child is studying remotely at home, or going to school every day, we know it is difficult to keep on top of everything. We want to take mealtime stress off your plate!
What is one final fun fact you would like to share with our readers?
Bukkun was the first and only name we considered for this little adventure. It's a very old Maltese word used by Erika's grandmother and it instantly brought a sense of comfort. We get asked what it means all the time and you will probably get a different definition depending on who you ask. But to us, it means a warming meal made with lots of love – and you can always count on love to make your food that little bit tastier!
Bukkun is a subscription service that delivers prepared, balanced, and delicious kids' meals, daily. Check out their services on www.bukkun.com.mt and like their Facebook page @BukkunKids.