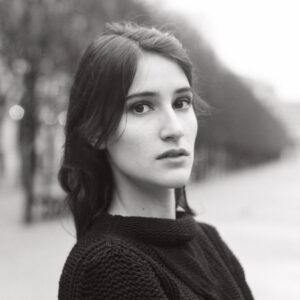 Hi Diane! Would you kindly introduce yourself to our readers?
I am a French fashion designer, raised in Paris where I studied fashion design and pattern making. After gaining experience for several years, designing for prestigious houses like Lanvin, Celine and Ralph & Russo, I launched my first collection in 2018. I moved to Malta the same year, where I created my second collection inspired by this beautiful country.
Where does your passion for fashion originate?
I am lucky to be surrounded by my family of artists, including musicians and painters. Art was always a part of my life and fashion soon became the best way to express my creativity. I was certainly influenced by the fact that my father spent his career working for luxury brands like Chanel, Ungaro and Salvatore Ferragamo!
Your new collection, Caravage, is inspired by Malta. How are the islands reflected in the collection?
I have always been fascinated by the extraordinary history of this mysterious island at the crossroads of the Orient and Occident. You can see the oriental influences in silhouettes that are draped around the waist and in the recurrent use of gold embroidery in my collection. The intricate design of the embroidery is inspired by the Baroque architecture of St John's Co-Cathedral.
The mineral and marine landscapes are echoed in the floaty dresses, and in a particular crop top design, which features waves and sea foam in the embroidery.
Can you tell us about the choice of materials and colours for this collection?
The collection is made out of beautiful silk fabrics, responsibly sourced in England, Italy, France and India. The deep colours of my collections, like an amaranth, a saffron, and a ruby red, are inspired by the work of Caravaggio, who painted his masterpieces in Malta. The metallic and silver blues are of course inspired by the marine landscapes of the islands.
Could you describe your favourite piece from the collection and tell us why you love it?
I love them all, but if I had to choose one to represent my fascination for Malta and craftmanship, it would be Look 15 (see image). I have designed all the embroidery with arabesques of birds, flowers and leaves inspired by details from St John's Co-Cathedral. They were made by hand by incredibly talented embroiderers in India, requiring hundreds of hours of work. It is not the most wearable piece, but certainly the most "couture" one.
Your pop-up boutique shop has just opened for a limited period. What will be featured in this shop?
I will be showing my first and second collection: Cocteau and Caravage. They both include daywear, evening dresses and bridal dresses. Each piece from the collections can be made to measure and in any colour. I can also design a unique dress for the client.
How will the pop-up shop take Covid measures in consideration?
Due to the prevailing Covid situation, collections will be visible by exclusive appointment only. Masks are of course mandatory for the client and me, as well as sanitising hands and surfaces of the boutique regularly. Lastly, between each appointment, the showroom is well-aired.
What is the proudest moment of your career so far?
I don't have one in particular. My biggest pride and reward as a fashion designer is to see the happiness of the women wearing my designs.
Apart from fashion design, what is your favourite way to spend your time?
Spending time in the nature with my family, especially my husband, my son and soon to come, my second son!
Do you have any exciting future plans you can share with us?
The opening of a permanent atelier/showroom in Malta. More information to come soon!
The Diane de Malherbe pop-up boutique will be open at 55 Triq il-Kbira, Sliema until Sunday 1 November 2020. Strict Covid measures will be in place. Opening times are 10am-9pm. An exclusive 45-minute appointment may be booked online at www.dianedemalherbe.com/booking. Guests can bring up to three friends or family members per appointment. For more information, visit www.dianedemalherbe.com.