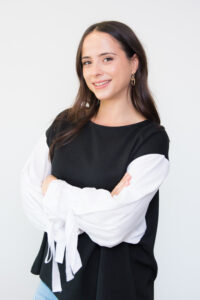 Sara Borg loves healthy living and sharing her practice with others. Focusing on nutrition, she advises clients on their diet and lifestyle so they can grow into the best version of themselves. We spoke to her about her work and the way it integrates into her personal life.
Hey Sara! Can you tell us a bit about your work as a nutritional therapist?
As a Nutritional Therapist, I use a holistic approach to identify my clients' underlying health concerns and symptoms. I also provide them with bespoke dietary and lifestyle changes that they can implement into their routine. I don't believe in deprivation or restrictive diets. Good, genuine food is at the heart of what I believe in and I like to focus on what my clients should be eating rather than what they shouldn't be.
I specialise in digestive and hormonal health, as well as female and male fertility and pregnancy nutrition.
What is your number one lifestyle tip for our readers?
Spend time in nature and go outside. We spend way too much time indoors, in front of our screens. It's a natural way to destress and during times of uncertainty such as this pandemic, I am sure we can all benefit from it.
Summer is slowly coming to an end, but there are still plenty of warm days in Malta for us to enjoy summer food. What is your favourite healthy summer recipe?
I'm a huge fan of ice cream and I believe that everything should be enjoyed in moderation! I love making ice cream out of frozen bananas, simply blended in a high-speed blender/food processor. Add a dash of milk and other flavours of choice. My favourites are raw cacao and peanut butter with a pinch of sea salt. Delicious!
What do you enjoy most about working with your clients?
I have worked with clients one-on-one for over seven years now, as I used to manage our family business Heaven Spa. I see many clients with various health problems. Seeing their progress and the way the changes they have implemented helped them grow, both physically and mentally, gives me the most satisfaction. And as I always tell them: I'm here to guide and support you, but ultimately you have done all the work.
How do you go about personalising the programme for each client?
In nutritional therapy we use a functional medicine approach, which means that we look into every aspect of the individual's health. For example, not just what they are eating but their lifestyle, stress levels, genetics, toxic exposure, trauma and any medication that they may be on or have been on previously. It is like painting a picture of the person in front of you – what has brought them here? But most importantly, why? And what is the root cause of their issues? You can improve the symptoms, but it's the root issue that you need to address. This is at the heart of all I do.
What is your proudest moment so far?
Being interviewed on TV – my aim is to educate my clients and the people around me. If I could just help one person change their lifestyle for the better, I am a happy bunny!
Are you practicing any sports? What is your favourite way to get moving?
I have just started swimming and I love it. I have never been a huge fan of sports, but I find it very meditative. As soon as I get into the water my mind switches off.
What are you passionate about besides nutrition and lifestyle?
I love to sing, dance and be silly. I don't take life too seriously and I'd like to say I'm an incredibly positive person. Singing and dancing allows me to express myself – although I only do it in front of the mirror!
Is there any new hobby or workout you want to try in the near future?
Yes! I would love to start pole dancing – I've tried it before and loved it.  It's a great workout, helps build self-confidence and is super beneficial for core strength. I guess it gets a bad rep, but I'd like to think we are growing out of that mindset!
As you shared on your Facebook page Balance, nature plays an important role in health and well-being. What is your favourite natural spot on the island?
Fomm ir-Rih – I never tire of that view!
If you want to become the best version of yourself through a personalised, holistic nutrition plan, don't hesitate to get in touch with Sara. Find her on Facebook (https://www.facebook.com/balancebysara), Instagram (@BalanceBySara) or send an email to nutrition@balancebysara.com.