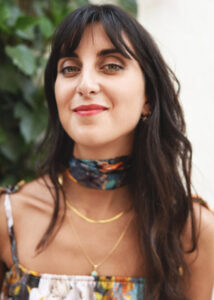 Colourful, creative designs made of quality silk from all over the world. That's what Saz
Mifsud's products are – more than your average accessories. They are bold and
expressive, inspired by many creative sources. We spoke to Saz about her work, her
inspirations and her plans for the future.
Hi Saz, lovely to have you! Can you briefly introduce yourself to our readers?
I'm a fashion print designer by trade. This means that my design work starts with the design of the fabric before moving onto the product itself. My speciality lies in creating digital designs that are printed onto natural fabrics. I started my brand back in 2013 with a collection of silk scarves. Today the collection has grown to also include clutch bags, headbands, hair ties, silk tops and jackets, with several new products coming soon.
Let's talk about your new collection Lion Girl: what inspired you for this specific collection?
This collection is a melange of cultures, colours and imagery from two completely different worlds, Malta and New York – two of my favourite places. While travelling in New York, I visited some wonderful museums. I found myself enthralled by the works of the German Expressionists, especially Ernst Ludwig Kirchner, whose use of colour and depiction of women is so bold, striking and unusual. In Malta, I picked up on the natural landscape and its surroundings. If you look carefully, you will see imagery of trees and freesias in my prints. However, you will also see man-made elements in the form of traditional Maltese door knockers. "Lion" refers to the lions typically found on Maltese door knockers, whilst "Girl" refers to my interpretation of a girl from one of Kirchner's paintings. To me the name Lion Girl symbolises a powerful femininity that emerges from both my designs and the women who wear them.
How would you describe your favourite piece from this collection?
My favourite piece is the newest addition to the collection – our silk top with a little frill around the waist. It's such a feminine, romantic little piece, with straps that can be worn dreamily off the shoulder. It will add a touch of drama to a basic denim jean, or can be worn in a more formal setting with a silky skirt. This is how I personally love wearing it.
How do you go about the design process?

Starting out as a painter, I always longed to see the rich colours I could produce on canvas on my clothing. This inspired me. In 2013, I started creating digital designs using a mix of my own photographs and paintings. I digitally printed these designs onto silk and was blown away by the richness of the colourful silks. This is how the brand was born. The silks were hand-crafted to create a colourful range of scarves.
Where do you source the silk?
We use suppliers all over the world to source our silks and other natural fabrics within the collection, like cottons and wools. These span from Italy and Spain to China and India. It all depends on what is available and of the best quality that season.
What is your main source of creative inspiration?
My surroundings inspire me wherever I am. In 2019, I travelled back and forth between Malta and New York – two places so different, yet inspiring in their own ways. As I explained before, this was a key source of inspiration for my Lion Girl collection. The other main inspiration is the Maltese natural landscape, a recurring theme in all my collections. Our 2021 collection, which is currently in its development stage, is inspired by a Mediterranean trip I managed to sneak in in 2020… but it's under wraps for now!
What is your proudest achievement so far?
It is very difficult to pinpoint one moment as my proudest. So far I feel like the brand has experienced a series of special moments. Each time the brand finds itself stocked in a new boutique – that's always a very proud moment. It means that another company is trusting in us and wants us to be part of their collective. I also find it so surreal when I see a stranger in one of my pieces on the street. They don't realise that they are wearing something that's so personal to me because I have spent hours creating the design they're wearing from scratch. It is my baby.
What is the most important belief in your business?

The brand values the use of natural, good quality fabrics combined with excellent manufacturing to create unique products that will last. This is a core goal and we work very hard towards it. However, I ardently believe that running a business is not just about having a good product and turning a profit, it's about doing something that really matters. That's why for every 20 scarves sold, we donate a headscarf to a woman undergoing treatment that results in hair loss. It means the world to us to be able to brighten up her day, even if just for a moment, with a touch of glamour. You can send us an email to nominate someone.
How are you envisioning the future of Saz Mifsud?
We are working towards expanding the business. This involves developing exciting new products and increasing our overseas stockists. As part of our goal towards international expansion, in 2020 we started retailing at two boutiques in New York! One of the brand's most exciting moments. In the coming months we will be launching some sneaky new pieces for the Christmas season! Stay tuned.
Are you ready to show the world your colours? Or are you looking for a beautiful piece
to add to your wardrobe? Check out the Lion Girl collection and more of Saz's designs at
www.sazmifsud.com.